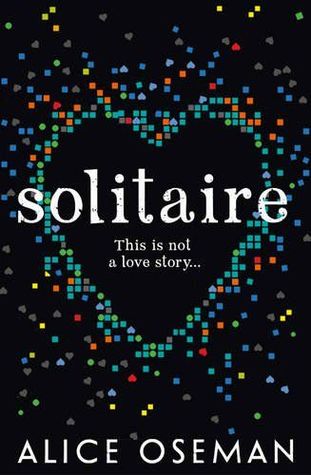 In case you're wondering, this is not a love story.
My name is Tori Spring. I like to sleep and I like to blog. Last year – before all that stuff with Charlie and before I had to face the harsh realities of A-Levels and university applications and the fact that one day I really will have to start talking to people – I had friends. Things were very different, I guess, but that's all over now.
Now there's Solitaire. And Michael Holden.
I don't know what Solitaire are trying to do, and I don't care about Michael Holden.
I really don't.
– Goodreads
While going through tumblr I came across mentions of this book many times on many book blogs. Everyone who read it, loved it. Even I found the description above quite intriguing & ordered it on Amazon.
What I liked:
The cover: I have picked up books only because of their beautiful covers in the past. I love nice covers & I loved this book's front page. The spine has this lovely bright fluorescent orange colour & the front & back are black.
I liked the way it covered school life. Higg's is very real for the reader & it is as if you too are a student there.
This was the first novel where a gay couple was present & were pretty important to the story. They weren't friends of friends of the main characters. They were important. They had a story which was interlinked with Tori's. They weren't stereotyped. They had a personality as normal as everyone else. A refreshing depiction of homosexuals for once.
The mention of Tumblr, Harry Potter, IE, BBC Sherlock, etc made me connect better with the story. I don't know if these things will be relevant to readers 10 or 20 years down the line but at the moment I could relate to all these references & agreed with most of The Lot's views about them.
Becky: For most of the book she was this 'cool' girl. But it is only towards the end that she proves she isn't just some shallow painted face. She showed real depth in standing up for Lucas & Tori. It might have been an adrenaline rush for her but she did save the school as best as she could.
I liked Alice Oseman's style of writing. I may not have enjoyed this book much but it won't put me off Oseman's other novels either.
What I did not like:
Tori: I really hated her. I know we are supposed to sympathize with her & her problematic teenage years but her problems are bigger than developing hormones. She is an insensitive girl who is extremely self centered. We were never given the reason as to why Tori is the way she is.
Solitaire: It was extremely lame. I get Lucas is desperately trying to get her attention but to destroy an entire school just for that is absurd. And it ended all so abruptly. Also, everything Solitaire did was a little bit too much. Since the novel is based in the current years it is hard to believe that the school with its teachers, prefects & even the police (especially after the concert explosion) are all clueless about the location & hence the identity of Solitaire. And these kids aren't exactly the best hackers in town either. They are just students who got good grades & got into grammar school who are doing this side job so they can teach the school a lesson. It all sounds so ridiculous when you even write it down. And to base an entire novel on this alone…
Although it isn't a typical love story, it is still a love story. So the line 'This is not a love story' on the front page is a little misleading. It has two guys going crazy over a girl, one succeeds, one fails. While it isn't the mushy romance of Mills & Boon it definitely has a love story in it. Someone who loved this novel might even say that it is a story of Tori falling in love with herself & her life.
Maybe if I had been a teenager I might have been able to relate to Tori & her strange behaviour. But at the moment I am just glad the book is over so I can find something better to read. It wasn't boring but it did not live up to the hype.
A 2/5 for the book.