It's just a small story really, about among other things: a girl, some words, an accordionist, some fanatical Germans, a Jewish fist-fighter, and quite a lot of thievery. . . .
Set during World War II in Germany, Markus Zusak's groundbreaking new novel is the story of Liesel Meminger, a foster girl living outside of Munich. Liesel scratches out a meager existence for herself by stealing when she encounters something she can't resist–books. With the help of her accordion-playing foster father, she learns to read and shares her stolen books with her neighbors during bombing raids as well as with the Jewish man hidden in her basement before he is marched to Dachau.
This is an unforgettable story about the ability of books to feed the soul.
– Goodread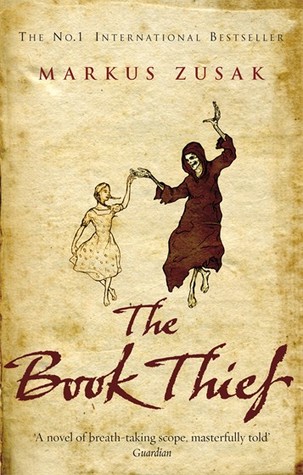 This is the sort of book which stays with you long after you have read the last page. Broadly speaking it the story of an orphan girl Liesel who is sent into foster care & her experiences from there on. Covering the WW II it has its sad moments, but even through all that sadness we see a girl & her family & friends try to live as normal a life as we do today, attending school, raiding orchards, dreaming big, falling in love, playing while the life of a single man is brought to a standstill for his one crime, he is a Jew. This story becomes so extraordinary because Death tells it to us.
What I liked:
The presence of life even in the face of death: Everywhere around Liesel death & destruction rules. She, along with everyone around her are living in uncertain times. Hence, while we pick up the book worrying that all we will get is one great tragedy after another, what we get is how the people are trying to live as normal a life as possible.
Liesel, the book thief, the book lover: What bookworm won't love a girl who loves to read. She loves it so much that she decides to learn to read, just so she would be able to read the book she stole from the graveyard worker. That sort of determination in a little girl is admirable indeed. 🙂
The writing style: The writing style is different & in a good way. It makes the book not just thought provoking but also entertaining.
Hans & Rosa Hubermann: While Rosa is presented as a foul mouthed woman she proves to be a wonderful mother to Liesel. Hans too is the best father a girl could ever have. And even as a couple it is obvious that the two are very much in love with one another. Amidst poverty & war, while helping an orphan & a Jew, these two have managed to create a beautiful family even after their own children left them a long time ago.
Rudy Steiner: Although I found him a little annoying in the beginning, towards the end I couldn't help but fall in love with him. Maybe it was when he finally got his kiss from Liesel, but didn't really … 😦
What I did not like: 
Everything in this novel was perfect. I did find the start a little boring, but after a few pages the novel is unputdownable.
I would recommend this book to one & all. It is a must read book.
Some quotes from the book:
"Like most misery, it started with apparent happiness."
"I wanted to tell the book thief many things, about beauty and brutality. But what could I tell her about those things that she didn't already know? I wanted to explain that I am constantly overestimating and underestimating the human race-that rarely do I ever simply estimate it. I wanted to ask her how the same thing could be so ugly and so glorious, and its words and stories so damning and brilliant."
"She leaned down and looked at his lifeless face and Leisel kissed her best friend, Rudy Steiner, soft and true on his lips. He tasted dusty and sweet. He tasted like regret in the shadows of trees and in the glow of the anarchist's suit collection. She kissed him long and soft, and when she pulled herself away, she touched his mouth with her fingers…She did not say goodbye. She was incapable, and after a few more minutes at his side, she was able to tear herself from the ground. It amazes me what humans can do, even when streams are flowing down their faces and they stagger on…"
"A snowball in the face is surely the perfect beginning to a lasting friendship."
"How about a kiss, Saumensch?"
He stood waist-deep in the water for a few moments longer before climbing out and handing her the book. His pants clung to him, and he did not stop walking. In truth, I think he was afraid. Rudy Steiner was scared of the book thief's kiss. He must have longed for it so much. He must have loved her so incredibly hard. So hard that he would never ask for her lips again and would go to his grave without them."
"Humans, if nothing else, have the good sense to die."
"His soul sat up. It met me. Those kinds of souls always do – the best ones. The ones who rise up and say "I know who you are and I am ready. Not that I want to go, of course, but I will come." Those souls are always light because more of them have been put out. More of them have already found their way to other places."
"I carried [Rudy] softly through the broken street…with him I tried a little harder [at comforting]. I watched the contents of his soul for a moment and saw a black-painted boy calling the name Jesse Owens as he ran through an imaginary tape. I saw him hip-deep in some icy water, chasing a book, and I saw a boy lying in bed, imagining how a kiss would taste from his glorious next-door neighbor. He does something to me, that boy. Every time. It's his only detriment. He steps on my heart. He makes me cry."